TOP 20 RAP SINGLES
1
Chingy - One Call Away
2
J-Kwon - Tipsy
3

Ludacris - Splash Waterfalls

4
Cassidy - Hotel
5
T.I. - Rubberband Man
6

Jay-Z - Dirt Off Your Shoulders

7
Lil Flip - Game Over
8
Petey Pablo - Freek-A-Leek
9
Twista - Overnight Celebrity
10

G-Unit - Wanna Get To Know U

11

Trillville - Neva Eva

12
D12 - My Band
13
Master P - Act A Fool
14
David Banner - Crank It Up
15
8Ball & MJG - You Don't Want Drama
16

Outkast - Hey Ya

17

Pastor Troy - Ridin Big Yo

18
Three 6 Mafia - Who Gives A Fuck...
19
Master P - Them Jeans
20

Murphy Lee - Luv Me Baby

ON THE VERGE
Juvenile - Bounce Back
Kanye West - All Falls Down
Young Gunz - No Better Love
POSTERS FOR SALE
New posters of Koopsta Knicca, Mista Ian, Dirty Boy Wolf Pak, Playa Fly, Gangsta Blac, Project Pat, & more are up for auction. These would look great hanging up in any room.

Click HERE for more info.
HOT PICKS OF THE WEEK
LIL FLIP
"U GOTTA FEEL ME"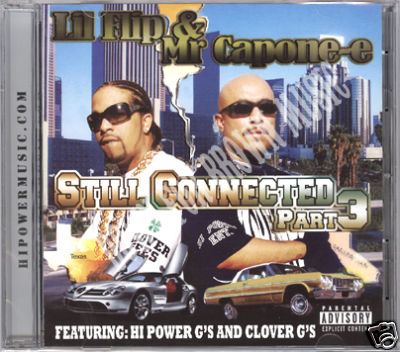 J-KWON
"HOOD HOP"
DJ KAY SLAY
"THE PAIN FROM THE GAME"
NEW ALBUM REVIEWS
Master P owned the rap game in the 1990's. As the head of the New Orleans based No Limit Records, he changed the rap game with his business moves and the way the major labels look at the independents. Master P had the world sayin "Bout It Bout It" but after his "retirement", he came with 2 of the worst albums in the entire No Limit catelog. With his first album since 2001, Master P looks to reclaim his throne as one of the kings of the South. The new album features the singles "Act A Fool" w/ Lil Jon along with guest spots from C-Murder, Silkk The Shocker, Lil Romeo, Currensy, Afficial, Liberty, & more.
Game Insane is a 5 man crew outta California. Mr Maja, T-1, Mista Drawmuh, MuB, & LOE return with their second album on their label, GI Productz.

One of the most anticipated albums in rap music is finally here after years of waiting. The album has features from Ludacris, Cee Lo, Jazze Pha, Too Shot, 8 Ball, Kayne West, Jamie Foxx, R Kelly, T.I., Memphis Bleek, Freeway, & more.